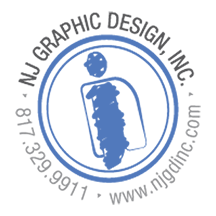 Grapevine Graphics and Print (formerly NJ Graphic Design) is a full-service graphic design studio in the heart of downtown Grapevine, Texas since 2005. Our talented staff will do whatever it takes to help your company become noticed and succeed!
The Grapevine Graphics and Print studio offers your business the complete package, from creative ideas and design to award-winning ad campaigns that engage target audiences.
In 2014, we were named the Grapevine Chamber of Commerce Business Hall of Fame for the outstanding contributions we make to the Chamber and greater Grapevine business community.